Forced heirship and testator possibilities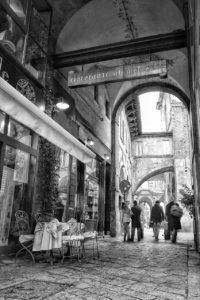 Forced heirship comes substantially from the ancient Romans who wanted the assets to remain within the immediate family or to gentes (the clan of all those individuals who shared the same family nomen and claimed descent from a common ancestor).
This determines the basic principle of the present Italian forced heirship law, which is close members of the family deserve part of the asset; this means that the testator cannot dispose of all its assets freely but must dispose of the assets as dictated by the law.
Prohibition of disinheritance
The testator cannot disinherit a close family member and cannot leave him/her a lesser quota than the one fixed by law. These close members (forced heirs) are the spouse and children and in certain circumstances the parents.
When there are no legitimate heirs, the testator is free to dispose of assets as he/she wishes.
Forced heirship and the right to contest the will
If the testator splits the asset differently a rightful heir who disagrees can claim  the missing part of his/her quota before a court.
If you are the spouse or child of a rightful heir (legitimate), you may be able to claim an inheritance based on forced heirship.
The below table shows the mandatory shares for close member of the family.
Go back to the main Inheritance page.
Forced heirship and "reserved quota"
Heirs
Free usable quota

by the deceased

Reserved quota

to legitimate heirs

Spouse**
Child/ren
Parents
Spouse and one child
1/3
1/3
1/3
0
Spouse and two/more children
1/4
1/4
1/2*
0
One child (no spouse)
1/2
–
1/2
0
Two/more children (no spouse)
1/3
–
2/3*
0
Spouse (no child no parents)
1/2
1/2
0
0
Spouse and parents
1/4
1/2
0
1/4*
Parent/s (no spouse no children)
2/3
–
–
1/3*
* The amount will be split in equal share between all 
** The spouse has the right to live in the family house
Do not waste time surfing the internet to find answers for your case. Call us (800) 205-9142 or email to info@mylawyerinitaly.com  the facts of your case and we will give you a quick answer on how to best proceed.
There is no charge for first consultation. 
FREE FIRST CONSULTATION
 A

nd when engaged you  pay only as the work progresses!

or fill out the form below: we will reply within 24 hours
MAILING ADDRESS
Studio Legale MLI
44, Lungotevere dei Mellini
Scala Belli Int. 15
00193 Roma, Italy
Phone (U.S. & Canada): +1 (800) 205-9142
Phone (Global): +3906-9294-6085